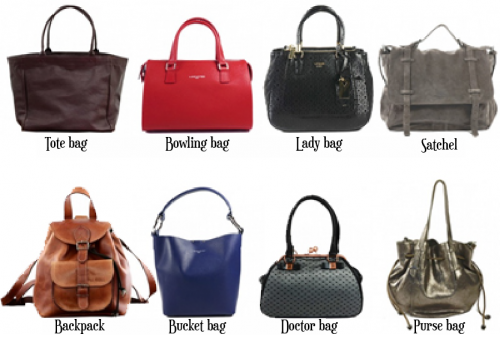 Bags: Large tote bag, small bag pouch, bowling bag, crossbody bag, backpack… every girl is dreaming about having the perfect bag!

Our closet is filled with different kinds of bags but we don't always know what type of bag is it and how it's worn?
Here are some useful information on the different types of bags and how to carry them :

Shopping bag or Tote bag ?

These two are very similar but can be differentiated by how to wear them and their type of closure. Both are large, wide and flexible because they are made to carry your grocery shopping, your files and even sometimes your clothes. Leather bags, canvas or straw, there is a perfect one for every situation.

The shopping bag is perfect for the city with its type of closure (zipped or with a stud) and is mainly held on the shoulder, unlike the tote bag which does not have any type of closure and which is held by hand.
 ➡ Shopping bag for the city and transport of your everyday items.

 ➡ Tote bag when your going to the market, or the beach.

The bowling bag (or handbag) is usually carried by hand although we often get it with a removable shoulder strap in case we needed a different wearing style. It is a trendy and comfortable bag with rounded shapes. This bag will easily allow you to carry the small stuff you use in your daily life.
A handbag with two handles to hold by hand or on the elbow and generally comes with a removable shoulder strap. An ultra-chic and feminine bag for women who prioritize elegance above everything else.

A bag with a retro and vintage look inspired by the bags worn by doctors in the old days. This bag generally has a high capacity of storage and has a rigid frame closure.
A rectangular handbag with a single handle on the top and flap closure with two straps. A perfect bag for work, office or school. It also has a removable shoulder strap for a crossed type of wear.

B

ucket bag or Purse bag

:

Highly trendy and feminine, this shoulder worn bag usually has a drawstring or stud closing style.

A shoulder bag to be worn across or long under the shoulder. This bag is generally flexible and can adapt to all styles.

A bag worn on the back thanks to its two suspenders, it sometimes has a handle on the top to carry it by hand. It can carry everything that you will need on a daily basis, at work, at school or even on a short trip.

Perfect for special occasions like weddings and proms. It has a small storage capacity (lipstick, perfume, credit card or cash…) and looks great when held on hand.