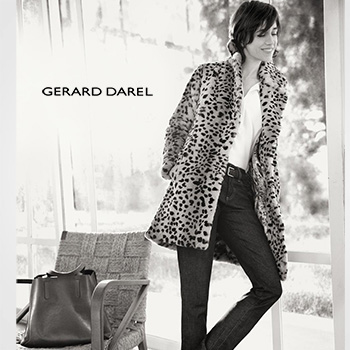 The new collection of Gérard Darel's bags embraces the French elegance, marked by the return of Danièle Darel at the head of the brand and his muse Charlotte Gainsbourg, faithful ambassador of the brand.
Charlotte's freshness and originality give to the mythical "24 Heures" a timeless modernity and the unique side of French style: both casual and chic.
The leather goods are more than ever to the honor in the Darel house, so that is how the "24 Heures" bag is again highlighted; This bestseller obviously featured in the "best off shopping".
After 13 years of existence, this iconic handbag is the "it-bag" to absolutely owned. 😉

In cowhide leather like Bubble, Python or Wool, the star of the bags is available in a multitude of models for the pleasure of women all over the world. Angelina Jolie, Susan Sarandon, Meryl Streep, Jessica Alba, Eva Longoria have at least one in their dressing room!
The legend says that a "24 Heures" bag is sold every two seconds in the world.
So do not hesitate and choose YOURS ! Among the selection offered on our website  noixdarec.com.